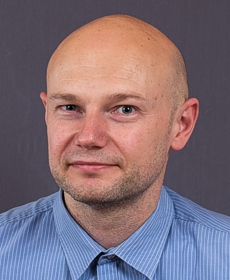 RNDr. Boris Klempa, DrSc.
Chair of the Scientific Board of BMC SAV
Research interest:
Hantaviruses as emerging pathogens: biodiversity, molecular evolution, ecology, and pathogenesis; Biodiversity and molecular evolution of rodent- and arthropod-borne viruses; Transmission mechanisms of tick-borne viruses and development of transmission blocking anti-tick vaccines.
Coordinator of several national and international projects, Seventh Framework Programs such as the European Virus Archive, ANTIDotE and H2020 EVAg and EVA-GLOBAL.
Education:
2000 – 2004 Ph.D., Institute of Virology, Charité, Humboldt University, Berlin, Germany
1999 RNDr., Faculty of Natural Sciences, Comenius University in Bratislava, Slovakia, specialization: virology, microbiology
1994 – 1999 Mgr., Faculty of Natural Sciences, Comenius University in Bratislava, Slovakia (Biology, specialization Virology)
Awards:
2021 granting of honorary citizenship of Bratislava Old Town
2020 together with Pavol Čekan, Crystal Wing in the category Medicine and Science
2020 The SAS Award for popularization of science and social applications of science for Scientific Section 2 (collective)
2020 finalist ESET Science Award 2020 in the category Outstanding Individual Contributor to Slovak Science; Public price
2020 Scientist of the year in the Innovator of the Year category
2019 Joel Dalrymple Award of the International Society for Hantaviruses
2017 Scientific award of the Ministry of Education of the Slovak Republic
2012 The Visegrad Group Academies´Young Researcher Award 2012
2011 Clinical Virology Award 2011 of the German virology societies DVV and GfV
2009 The Slovak Academy of Sciences Award for a Young Scientist
2005 The Robert Koch Price of the Charité School of Medicine, Berlin
1999 Rector of Comenius University Award
| | | |
| --- | --- | --- |
| Mgr. Jozef Ukropec, DrSc. | vedúci vedecký pracovník Ústavu exprimentálnej endokrinológie BMC SAV, v. v. i. | |
| RNDr. Nataša Hlaváčová, PhD. | samostatná vedecká pracovníčka Ústavu exprimentálnej endokrinológie BMC SAV, v. v. i. | |
| prof. MUDr. Boris Mravec, PhD. | samostatný vedecký pracovník Ústavu exprimentálnej endokrinológie BMC SAV, v. v. i. | |
| Mgr. Andrea Bábelová, PhD. | samostatná vedecká pracovníčka Ústavu experimentálnej onkológie BMC SAV, v. v. i. | |
| RNDr. Miroslava Matúšková, PhD. | samostatná vedecká pracovníčka Ústavu exprimentálnej onkológie BMC SAV, v. v. i. | |
| Mgr. Božena Smolková, PhD. | samostatná vedecká pracovníčka Ústavu exprimentálnej onkológie BMC SAV, v. v. i. | |
| prof. Ing. Oľga Križanová, DrSc. | vedúca vedecká pracovníčka Ústavu klinického a translačného výskumu BMC SAV, v. v. i. | |
| MUDr. Žofia Rádiková, PhD. | samostatná vedecká pracovníčka Ústavu klinického a translačného výskumu BMC SAV, v. v. i. | |
| RNDr. Tatiana Betáková, DrSc. | vedúca vedecká pracovníčka Virologického ústavu BMC SAV, v. v. i. | |
| Ing. Miroslav Glasa, DrSc. | vedúci vedecký pracovník Virologického ústavu BMC SAV, v. v. i. | |
| Ing. Ľudovít Škultéty, DrSc. | vedúci vedecký pracovník Virologického ústavu BMC SAV, v. v. i. | |
| RNDr. Petra Bonová, PhD. | samostatná vedecká pracovníčka Neurobiologického ústavu BMC SAV, v. v. i. | |
| RNDr. Nadežda Lukáčová, DrSc. | vedúca vedecká pracovníčka Neurobiologického ústavu BMC SAV, v. v. i. | |
| doc. MUDr. Ing. RNDr. Peter Celec, DrSc., MPH | vedúci Ústavu molekulárnej biomedicíny, Lekárska fakulta Univerzity Komenského v Bratislave | |
| prof. MUDr. Peter Šimko, CSc. | rektor Slovenskej zdravotníckej univerzity v Bratislave | |
| prof. MUDr. Juraj Šteňo, DrSc. | dekan Lekárskej fakulty Univerzity Komenského v Bratislave | |
| prof. RNDr. Peter Fedor, PhD. | dekan Prírodovedeckej fakulty Univerzity Komenského v Bratislave | |
| prof. RNDr. Peter Fedoročko, CSc. | prorektor Univerzity Pavla Jozefa Šafárika v Košiciach | |
| prof. MUDr. Peter Valkovič, PhD. | prednosta II. neurologickej kliniky LF UK a UN Bratislava | |
| prof. RNDr. Jozef Masarik, DrSc. | prorektor Univerzity Komenského v Bratislave | |